Did you know?  – Our masts don't just have to be aviation yellow or white and red striped, we can manufacture approach masts, RVR masts, anemometer masts and windsock masts in 1625 colours.  
A simple change in colour can make a mast merge into its surroundings or become as visible as possible.   
These approach masts in RAL 6003 Olive Green have been designed to harmonise with their natural surroundings.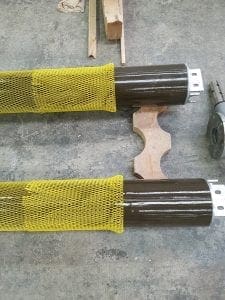 All our masts are made in our County Durham factory in the UK from fibreglass and polyester resin, finished with a UV resistant coloured gel coat. We can manipulate the process by adding different RAL colour dyes to the gel.  
With a rainbow of RAL colours to choose from get in touch with us to discuss your requirements.