This article is a product spotlight featuring our 180mm Multiple Light Approach Mast.
180mm Multiple Light Approach Mast – Description
Our 180mm diameter mast with cross arm has the facility to mount up to 5 lights and SFL. We provide a double support arm assembly for cross arms longer than 4000mm, to provide extra strength. It can be used to suit light heights of between 2000mm and 1200mm. It is constructed from fibre glass and is mounted on a hinged base plate, this allows for ease of installation and maintenance.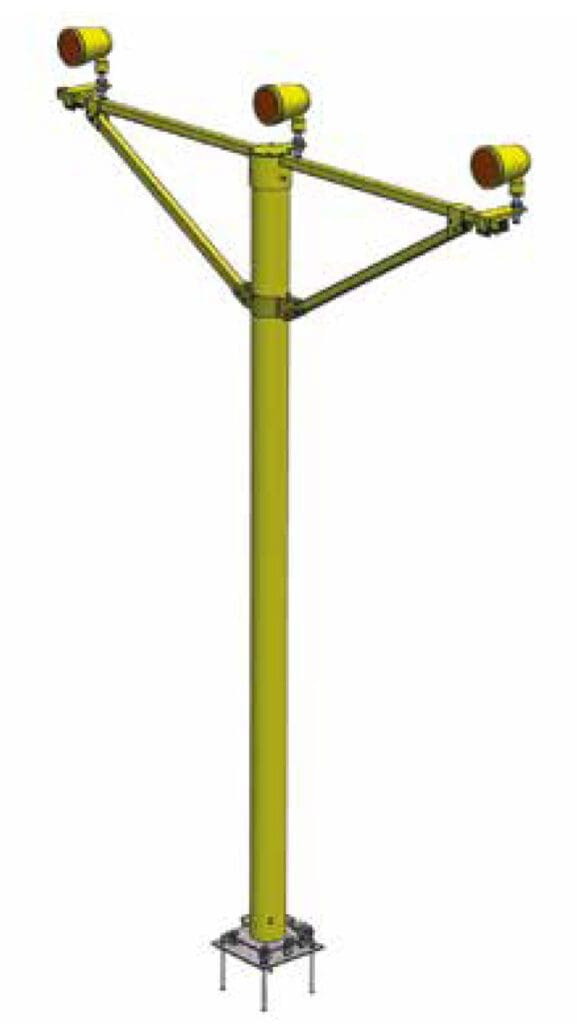 We provide a winch for masts over 5000mm to assist with raising and lowering the mast. The masts are very strong due to the construction of the fibre glass. Lighting cables run inside the hollow mast which protects them from the elements. All masts come with a light height adjuster to allow for any final adjustments.
The mast is full frangible and compliant with the ICAO aerodrome design manual and FAA specifications.
Features
Non-corrosive
Non conductive
Environmentally durable – no wind fatigue and resistant to extremes of temperature
Facilitates up to 5 lights
Easy to install
Extreme strength
Low environmental impact
Low maintenance
No electro-magnetic interference
UV and salt spray resistant
Download the approach mast data sheet here.